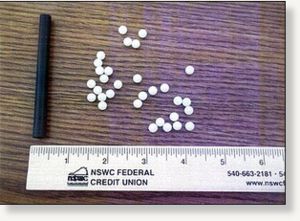 Andrew Mikel II admits it was a stupid thing to do. In December, bored and craving attention, the 14-year-old used a plastic tube to blow small plastic pellets at fellow students in Spotsylvania High School. In one lunch period, he scored three hits.
"They flinched. They looked annoyed," Mikel said.
The school district saw it as more than a childish prank. School officials expelled him for possession and use of a weapon, and they called a deputy sheriff to the scene, said Mikel and his father, Andrew Mikel Sr.
The younger Mikel, a freshman, said he was charged with three counts of misdemeanor assault. The case was first reported by the Web site WorldNetDaily.
Spotsylvania school officials declined to comment on the incident, citing student confidentiality rules. But documents that the school produced when Mikel's father filed a Freedom of Information Act request show internal division over the matter.
The federal Gun-Free Schools Act mandates that schools expel students who take weapons, including hand guns, explosive devices and projectile weapons, to school. E-mail traffic among school officials showed they ruled that Mikel's plastic tube, which was fashioned from a pen casing, met the definition of a projectile weapon because it was "used to intimidate, threaten or harm others."
School officials in some e-mails referred to the plastic casing as a "metal tube." The plastic pellets were called "B-Bs."
"We have an obligation to protect the students in our building from others who pose a threat to the over-all safe learning environment," Russell Davis, principal of Spotsylvania High, wrote to other school officials in one e-mail.