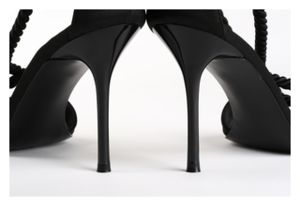 The laundry list of damage that high heels can do to your body just got longer: According to podiatrists, high-heeled shoes are one of the most common causes of ingrown toenails.
This toenail problem, which occurs when the toes are compressed so that the big toenail grows into the skin, is usually nothing more than a painful annoyance. But ingrown toenails can become infected, sometimes necessitating the removal of the entire nail.
"Ingrown toenails can be painful, but many women are willing to cope with the discomfort in order to continue wearing their high heels,"Rodney Stuck, a professor of podiatry at the Loyola University Health System, said in a statement. "However, more serious complications can arise and cause permanent damage to the toenail, if they are left untreated."
Stuck suggested avoiding overly pointy, tight shoes and tight hosiery. Trimming the toenails straight across can also reduce the risk of ingrown nails. Soaking the feet in lukewarm, soapy water, drying them thoroughly and then applying a mild antiseptic can prevent infection if toenails are already ingrown.
But heels can harm more than just the toes. Research has linked high heels in youth to
heel and ankle pain
in older adults. One study published in October 2009 in the journal
Arthritis Care & Research
analyzed foot-examination data from more than 3,300 men and women and found that more than 60 percent of women reported wearing shoes with poor support, including heels, pumps and sandals, compared with only 2 percent of men. In women, wearing these shoes in the past was linked with heel and ankle pain.