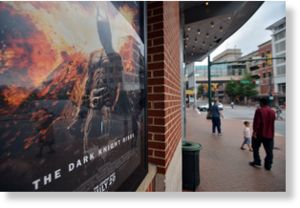 West Homestead, Pennsylvania - Police say nobody was arrested when a fight broke out during a Pittsburgh-area showing of
The Dark Knight Rises
prompting audience members to flee the theater.
Homestead police Chief Jeffrey DeSimone says his officers were called to handle crowd control at the AMC Loews Waterfront 22 theater during the incident shortly after 6 p.m. Sunday. DeSimone suspects patrons ran out of the theater because they were a little "jumpy" in the wake of a shooting that left 12 dead during a midnight premiere of the movie last week in Aurora, Colo.
Police say two people suffered minor injuries, but say nobody was charged with a crime. It wasn't immediately clear if the injured were those fighting or patrons hurt leaving the theater.
A spokesman for Atlanta-based AMC did not immediately respond to an e-mail seeking comment Monday.