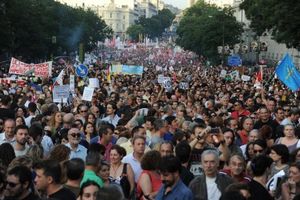 Spanish police fired rubber bullets and charged protestors in central Madrid early Friday at the end of a huge demonstration against economic crisis measures.
Thick smoke hung in the air from plastic bins set alight by protestors chased by police, who hit them with batons when some tried to reach the heavily-guarded parliament at the end of a mostly peaceful march.
AFP reporters at the scene said dozens of protestors lingered, some throwing bottles at police, near the Puerta del Sol, the big square at the heart of the city where a march of hundreds of thousands wound up late Thursday.
A police official told AFP that officers arrested seven people and six people were injured.
Earlier, workers protesting against crisis pay cuts and tax hikes filled the streets of several Spanish cities, yelling and whistling in anger as they branded the government's latest crisis measures "robbery".