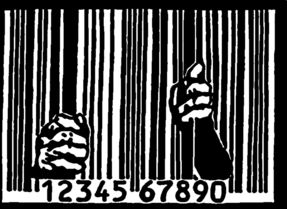 "Mass incarceration on a scale almost unexampled in human history is a fundamental fact of our country today - perhaps the fundamental fact, as slavery was the fundamental fact of 1850. In truth, there are more black men in the grip of the criminal-justice system - in prison, on probation, or on parole - than were in slavery then. Over all, there are now more people under 'correctional supervision' in America - more than six million - than were in the Gulag Archipelago under Stalin at its height." - Adam Gopnik,
The Caging of America
.
In an age when freedom is fast becoming the exception rather than the rule, imprisoning Americans in private prisons run by mega-corporations has turned into a cash cow for big business. At one time, the American penal system operated under the idea that dangerous criminals needed to be put under lock and key in order to protect society. Today, as states attempt to save money by outsourcing prisons to private corporations, the flawed yet retributive American "system of justice" is being replaced by an even more flawed and insidious form of mass punishment based upon profit and expediency.
As author Adam Gopnik reports for the
New Yorker
:
[A] growing number of American prisons are now contracted out as for-profit businesses to for-profit companies. The companies are paid by the state, and their profit depends on spending as little as possible on the prisoners and the prisons. It's hard to imagine any greater disconnect between public good and private profit: the interest of private prisons lies not in the obvious social good of having the minimum necessary number of inmates but in having as many as possible, housed as cheaply as possible.
Consider this: despite the fact that violent crime in America has been on the decline, the nation's incarceration rate has tripled since 1980. Approximately 13 million people are introduced to American jails in any given year. Incredibly, more than six million people are under "correctional supervision" in America, meaning that one in fifty Americans are working their way through the prison system, either as inmates, or while on parole or probation. According to the Federal Bureau of Prisons, the majority of those being held in federal prisons are convicted of drug offenses - namely, marijuana. Presently, one out of every 100 Americans is serving time behind bars.