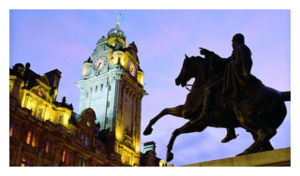 A Chinese woman has been conned out of thousands of pounds of jewellery and cash by a "spiritual healer" who said she would bless the valuables.
The 64-year-old Buddhist was approached by two Chinese women at around 3pm in the St James Centre, Edinburgh on Tuesday January 15. They asked if she wanted to meet with a spiritual healer.
The victim then went to meet a third Chinese woman, who claimed to be a healer, in the Balmoral Hotel. She was told her family's valuables and cash could be blessed.
The woman went home and gathered up large quantities of jewellery and money before placing them in a red bag and meeting the three women on the corner of West Register Street.
The bag was taken and "blessed" and the woman was told not to open the bag for a few weeks to allow the charm to work. However, she opened the bag a few days later and found her items had been swapped for junk.