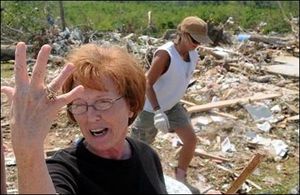 Travis Roberts invited his neighbors into the storm cellar he built for $600, but they figured they would ride out the twister bearing down on them.
Five were killed and two critically injured when it struck, splintering their homes, but Travis and his wife Brenda survived below ground in their storm-rocked concrete shelter.
"We did not respect the warning enough," said Roberts of the tiny Alabama town of 1,100 people, which was largely flattened in the deadly tornado outbreak that killed at least 350 people across seven states.