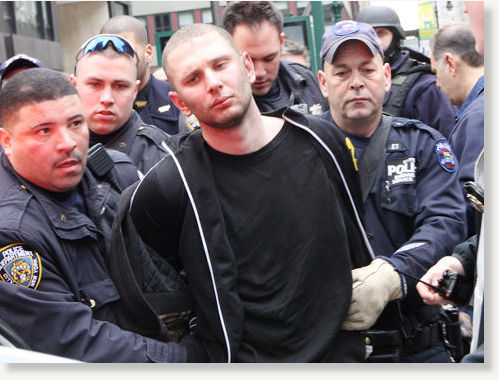 The knife-wielding madman who killed four people during a day-long rampage of stabbings, carjackings and hit-and-runs was nabbed in Times Square moments after he knifed a straphanger.
"They had to die," Maksim Gelman, 23, confessed after being tackled by two transit cops and an off-duty detective about 9 a.m. yesterday, sources said.
His arrest ended a one-man wave of breathless violence that spanned nearly 28 hours and two boroughs, fueled by rage at ex-flame and murder victim Yelena Bulchenko.
Gelman, described as a druggie graffiti vandal, lashed out at innocent bystanders as he cut a bloody swath through the city with six knives - sparking a massive manhunt.
"I don't recall ever seeing anything like this," said Police Commissioner Raymond Kelly. "He certainly did a lot of mayhem and havoc in a short time."
The frenzy finally came to an end after Gelman wildly hacked at a man on an uptown No. 3 train leaving Penn Station for 42nd St., sending screaming passengers running to safety.