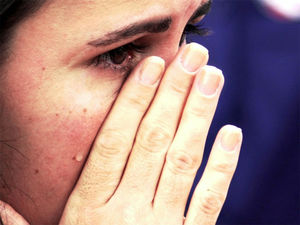 Veronica Galaviz of Richardson is nine months free of the man who tried to first kill her before then taking his own life. Prior to that horrific night, Galaviz said that she spent years being verbally and then physically abused.
But a bill that has been proposed by
State Representative Trey Martinez Fischer of San Antonio
seeks to create a domestic violence registry, similar to the current
sex offender registry
. "Once you've been in an abusive relationship, you have some trust issues," Galaviz said. "You always have some doubts, and this would be one way to relieve some of those doubts."
"I think it's a great tool, especially for someone who doesn't have the means to do a criminal background check on a potential suitor," Galaviz added.
If the bill (House Bill 100) is passed, any individual convicted of domestic violence at least three times would be required to register as a repeat offender. The registry would be free and open to the public, and would include names, birthdates and recent photographs of the offenders.
Jan Langbein is the executive director of
Genesis Women's Shelter
in Dallas. "I've heard so many women over the years say, 'Gosh, I wish I could have seen this coming,'" Langbein said. "'There was no way for me to see this coming. I didn't know that his past three wives were abused by him.'"