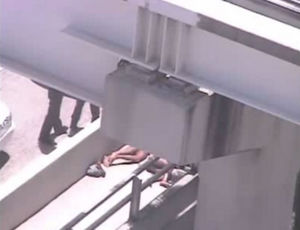 The naked man who savagely attacked another man in Miami and chewed most of his face off may have been under the influence of a powerful psychedelic drug.
Rudy Eugene, 31, was shot dead Saturday by an officer who discovered the gruesome scene at the foot of a highway off-ramp.
"He was ripping into his face with his teeth," said Larry Vega, who witnessed the ghoulish attack.
"He was ripping his skin, his neck. He had him held down. The guy couldn't move really, and he was just tearing into his flesh," Vega told WSVN TV in Miami.
Vega flagged down a police officer, who repeatedly ordered the assailant to stop and move away.
"The guy just stood his head up like that, with a piece of flesh in his mouth, and growled," Vega said.