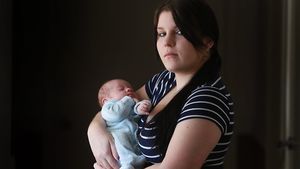 A Geelong mother says she feels disgusted that she was asked to pay to breastfeed her four-week-old son, Kaiden, in a parenting room inside a Ballarat pharmacy.
On Tuesday, Highton's Amanda Dunn was told she could not use the Baby Club room inside UFS Dispensaries in Bridge Mall free of charge.
Instead, she was told she could feed and change her firstborn child in front of others inside the store.
"How can anyone refuse a new mother, or any mother at that, access to a parenting room?" Ms Dunn, 22, said.
"Breastfeeding in public is so controversial these days, I was scared of people coming up to me in the store.