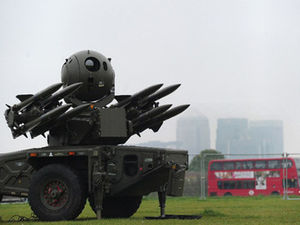 Residents in east London have threatened to form human barricades to prevent missiles being installed on the rooftops of their homes for the Olympic Games.
Six sites in east London have been earmarked for the deployment of Rapier and Starstreak missiles, each with a range of over three miles and capable of travelling at three times the speed of sound.
During the Olympics, London will have more soldiers on the streets than at any time since the Second World War and that there will be more armed personnel patrolling the capital than the entire number of British troops serving in Afghanistan. This amounts to far more security than was in place at the Beijing Olympics.
Critics claim there has been a militarization of London in the run up to the games. Inhabitants of an upmarket gated development in the upmarket Bow Quarter, announced at the meeting on Thursday night that they would do everything in their power to stop the deployment of the missiles.