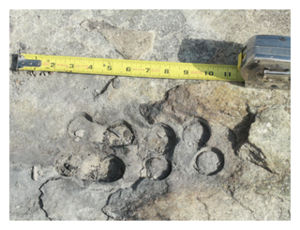 Historians are comparing it to the Taliban's destruction of massive Buddhist statues in Afghanistan: Ancient aboriginal pictograms and petroglyphs on an Albertan rock formation have been systematically destroyed by cultural vandals using a rock drill, acid and a power washer.
The obliteration of the etchings on the Glenwood Erratic near Pincher Creek in southern Alberta was discovered last week, just as an historian was about to photograph and test the markings.
"The site is part of the earliest heritage of Canada," said Michael Dawe, Curator of History at Red Deer Museum. "It looks like an ancient ceremonial/religious site at Glenwood, Alta., was deliberately destroyed. If true, this is a shocking and appalling incident."
The carvings formed a large face on the top surface of the stone, facing the sky, and also included evidence of early syllabic writing, said Stanley Knowlton, head of interpretive services at Head Smashed-In Buffalo Jump, a Unesco World Heritage Site.
"It is almost like someone wants to block this kind of research," said Mr. Knowlton, who discovered the destruction. The attack is a mystery, he said.
"Why? Well, that's the big question. If you find out why, you might be able to find out who."
He wonders if someone wants to destroy evidence suggesting the Blackfoot First Nations had a written language before European migration. The damage is the latest destruction of aboriginal pictograms and petroglyphs in Alberta, he said.