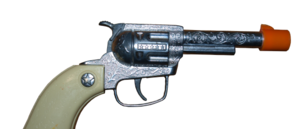 In the latest incident of anti-gun hysteria to erupt in a school setting, a kindergarten boy has been suspended from school for 10 days because he showed a friend his cowboy-style cap gun on the way to school.
The incident happened on Wednesday morning at about 8:30 a.m. on a school bus in Calvert County, Maryland,
reports
The Washington Post.
The kindergartener had brought the toy gun because his friend had brought a water gun the previous day. He later told his mother than he "really, really" wanted his friend to see it.
The suspended boy had acquired the menacing, plastic, orange-tipped weapon at Frontier Town, a western-themed campground with a water park, mini golf and the like.
School officials at Dowell Elementary School in the town of Lusby proceeded to question the five-year-old for over two hours before finally calling his mother, whom
The Post
also does not name.
The principal eventually called the boy's mother at 10:50 a.m. By that time, the five-year-old had wet his pants (which the mother called highly unusual).
The principal told the boy's mother that the boy had simulated shooting someone on the bus with the offending novelty. However, both the boy and his older sister, a first-grader, say the principal is not telling the truth.