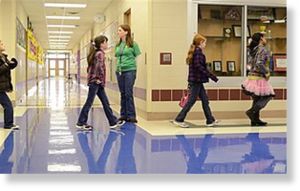 Fort Hood, Texas - Public schools everywhere will be affected by the government's automatic budget cuts, but few may feel the funding pinch faster than those on and around military bases.
School districts with military ties from coast-to-coast are bracing for increased class sizes and delayed building repairs. Others already have axed sports teams and even eliminated teaching positions, but still may have to tap savings just to make it through year's end.
But there's little hope for softening any future financial blows.
"Next year is scarier than this year," said Sharon Adams, chief financial officer for Muscogee County schools in Georgia. The district serves the U.S. Army's Fort Benning and could lose $300,000 in federal funding out of its $270 million in general funds before the end of the school - and more than four times that in 2013-2014.
The schools' losses will come from cuts to a federal program known as "Impact Aid" that supplements local property tax losses for districts that cover federal land, including military posts and Indian tribal areas. About 1,400 school districts serving roughly 11 million children nationwide - including nearly 376,500 students from military families - benefit from the aid, said Jocelyn Bissonnette, director of government affairs for the Washington-based National Association of Federally Impacted Schools.