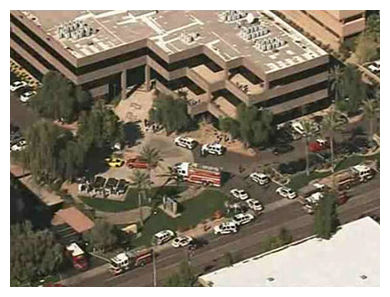 Police confirmed that at least six people were injured in the latest mass shooting in the US. One victim has reportedly died of gunshot wounds, while two remain in severe condition as the 'armed and dangerous' suspect is still on the loose.
­The suspect, who was identified as a 70-year-old Arthur D. Harmon, remains at large and was described by police as
"armed and dangerous."
The shooting occurred around 10:30 a.m. MST (12:30 p.m. EST) at an office building in Phoenix, Arizona. Harmon, a white male, was seen fleeing the scene in a white SUV. After firing his gun and hitting at least five people, he escaped from police.
The building was evacuated and the five victims hospitalized while police were searching the compound for any additional victims.
One of the victims, a 48-year-old Steve Singer, the CEO of Fusion Contract Centers Inc, died in hospital. Police did not release the names of the other victims.
Harmon appears to have been working alone, and the reason behind the attack remains unknown, officer James Holmes told the press.
"We have no motive. It is right now a really fluid scene,"
Holmes told AP.