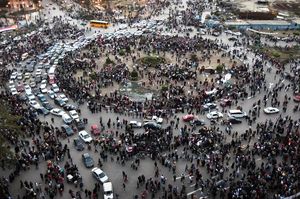 Egypt's people power movement forced out an arrogant pharaoh, who had ruled the country for the last thirty years with the help of the United States, other Western powers, and Israel, but now it seems that new dangers are arising.
The Egyptians may be chanting that their country is free, but their struggle is far from over since some lackeys of the USA and Israel in the Egyptian establishment are already making efforts to hijack the historic revolution.
The Egyptian military is now officially in control of Egypt and the counter-revolution is unfolding. So a new phase of the liberation struggle has started.
On Sunday, protesters again took to the streets across the country and thronged Cairo's iconic Tahrir Square as the new military rulers announced that they would stay in power for six months, when they say elections will be held.
The military rulers also dissolved parliament and suspended the constitution on Sunday.
The protesters want all their demands met, including the transition of power from the military to a civilian, democratic government.
On Sunday, clashes broke out between the army and the protesters as troops tried to disperse thousands of demonstrators in Tahrir Square, a Press TV correspondent reported.
The wave of demonstrations in and around the square is showing no sign of stopping, with hundreds of thousands of protesters continuing to gather in the square.