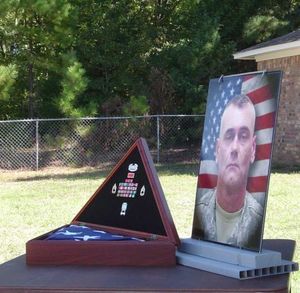 At least 22 confirmed last year in and around Fort Hood, doubling the post's total from 2009.
Killeen, Texas - Sgt. 1st Class Gregory Eugene Giger was a "tall quiet Texan" even after his wife filed for divorce while he was in Iraq, his mom says.
Still, he was devastated.
"The only thing that I know is when she sued for divorce, she charged him with $2,000-a-month child support and insisted that he pay half of the house," said Helen Giger, 71, of Chandler, east of Dallas. "And by the time she got through charging him with various things, he had very little money left over, not even hardly enough to pay for his rent."
Authorities found Giger, 42, of Houston dead in his apartment near Fort Hood, hanging by necktie. He was one of at least 22 GIs from the post to commit suicide in 2010.