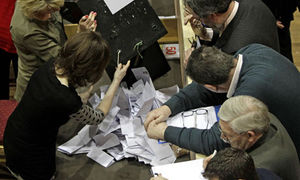 Enda Kenny, leader of Fine Gael, poised to become Ireland's prime minister if he can broker a deal with second-placed Labour
Ireland's most dominant political party, Fianna Fáil, is on the road to an historic and devastating defeat in the republic's general election.
Just months after accepting an EU/IMF bailout, the government is likely to be beaten into third place by a slew of independent candidates.
The scale of Fianna Fáil's losses are so great that a number of high-profile ministers, including finance minister Brian Lenihan, who negotiated the bailout, are in danger of losing their seats. His outgoing ministerial colleague Mary Hanafin also faces the possibility of being unseated in her Dún Laoghaire/Rathdown constituency.