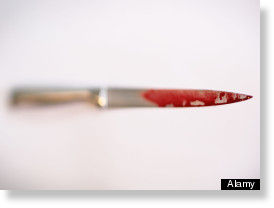 A New Jersey man allegedly cut out his entrails in front of police and then threw bits of his flesh and intestines at them.
The gruesome scene played out at a home in Hackensack, N.J., where 43-year-old Wayne Carter allegedly
barricaded himself in on Sunday
, NBC New York reported.
Officers got a call that morning when a witness said Carter was threatening to harm himself with a knife. Two cops responded, kicked in the door and found Carter in the corner, the station reported.
Carter allegedly ignored officers' orders to put down the knife, and instead began stabbing himself in the abdomen, neck and legs.
An attempt to pepper spray the bleeding man
had no effect
, the Associated Press reported.