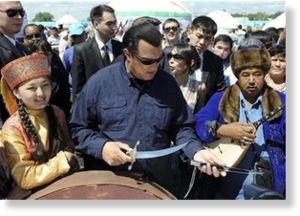 It's been said that what the world knows about the United States is what people see in Hollywood movies, and those perceptions could soon become reality in Texas.
Those who try to slip across the Rio Grande from Mexico into west Texas may find themselves arrested by newly sworn-in Hudspeth County Sheriff's Deputy and action film star Steven Seagal.
Seagal, currently starring in an A&E Network reality show detailing his experiences as a reserve deputy in New Orleans, contacted County Sheriff Arvin West about his interest in "patrolling the border", West said.
He was sworn in this week for the position in Hudspeth County, which runs along the Rio Grande east of El Paso, West added. Seagal, 59, could not be reached for comment.
"Mr. Seagal is not in this for the celebrity or publicity," West told Reuters. "He has a sincere passion for his country and he wants to do more to help. I think he will make a significant contribution to this office and to our community."