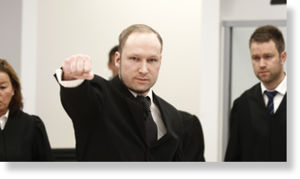 Oslo - Forensic scientists have criticized a report that says confessed mass killer Anders Behring Breivik was sane when he massacred 77 people last year in a bomb attack and shooting spree.
In a letter published Friday, the Norwegian Board of Forensic Medicine questioned why that report had not taken into account "important information" provided by the killer's mother, who said that her son's behaviour changed dramatically a year before the July 22 attacks.
Meanwhile, experts testifying in court threw doubt on Breivik's claim that his lethal rampage was a planned suicide attack.
Breivik's mental state is the key issue of his ongoing trial and will determine his sentencing.
If found guilty and criminally sane, he would face 21 years in prison, though he could be held longer if deemed dangerous to society. If declared insane, he would be committed to compulsory psychiatric care.
Two psychological examinations carried out before Breivik's terror and murder trial started in mid-April reached opposite conclusions on the 33-year-old's sanity.
Information provided by the mother was central to the first report, which found Breivik psychotic at the time of his rampage. The second report declared him sane, but said he suffers from personality disturbances.