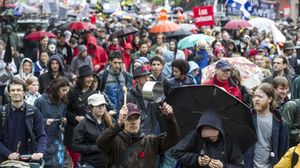 Thousands of people have taken to the streets of Montreal in Canada to protest against a planned tuition fee hike after talks between student groups and Quebec government officials collapsed.
The mass rally, organized by the CLASSE student association, was held on Saturday as thousands of student protesters and their supporters convened at the base of Mount Royal near McGill University in Montreal.
The protest was the first since the latest tuition negotiations with Quebec Premier Jean Charest's government broke down Thursday.
CLASSE said some 10,000 people were marching by Saturday late afternoon in the biggest protest since the start of the tuition crisis in February.