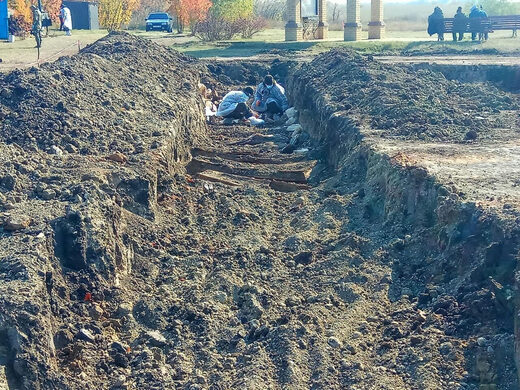 Note from Eric Zuesse: A friend, Russell Bentley, in Lugansk in the far-eastern Donbas region which had been part of Ukraine until
Obama's 2014 coup
in Ukraine overthrew Ukraine's
democratically elected
and
neutralist
President and replaced his Government by racist-fascist (or nazi)
anti-Russian zealots
, who promptly launched an ethnic-cleansing
campaign
against the residents in Donbas (
w
hich region of Ukraine
had voted 90%+
for that neutralist to become Ukraine's President) sent me this grim follow-up news-report:
Russell Bentley:
I recently witnessed the exhumation of human remains from a mass grave that contains over 200 bodies. It was a profound and profoundly disturbing experience. Each body in this grave represents an unnecessary and unjust death, a murder, and each of these over 200 murders can never be forgotten or forgiven. There is a message that cries out from these bones that must be heard and understood, and acted upon by all good people in the world. Otherwise, history will repeat itself, and again, the killers and the killing will continue, and more mass graves will be filled.
After seven years of war, a war that continues to this day, these 200 bodies are being exhumed from the mass grave that the war forced them into back in the summer 2014, during the heaviest attacks and siege by the Ukrainian "punishers" against the people of Lugansk. In those terrible days and nights of constant shelling and ever present danger, there was no water or electricity, no safe place to process the bodies, no chance at all for a regular funeral. Only now are conditions and resources finally available to put these peaceful and innocent civilians, along with some of their heroic Defenders, to rest with a proper burial.