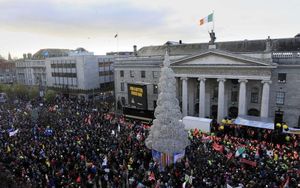 One of the largest demonstrations in the Irish Republic's history brought more than 100,000 people on to Dublin's streets in protest over the international bailout and four years of austerity ahead.
As European officials thrashed out the finer details of an €85bn rescue package, huge crowds braved freezing temperatures to demonstrate against the cuts, aimed at driving down Ireland's colossal national debt.
The main march to O'Connell Street passed off peacefully but there was an uneasy standoff outside the Irish parliament as two lines of Garda Siochána officers hemmed in around 100 leftwing demonstrators who had broken away from the union-organised protest. Fireworks were thrown at gardai outside the gates of the Dail as protesters shouted: "Burn it down, burn it down." Extra police were rushed to the scene to surround the
ad hoc
demonstration by leftwing and anarchist groups, who also set fire to a picture of the taoiseach, Brian Cowen.
Among those on the main march there was deep anger that most of the €80bn-plus from the EU and IMF will be used to shore up Ireland's ailing banks.