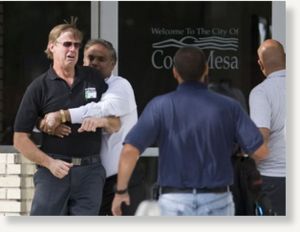 A city worker jumped off the roof of Costa Mesa City Hall this afternoon and died about an hour after he was called in to get his layoff notice.
About 3:20 p.m. the man jumped from the fifth floor of the building. Police said the man, who has not yet been identified pending notification of his family, was a 29-year-old maintenance worker with the city.
Two witnesses saw the man jump and attempted to help him after he landed.
The man, whom the
Register
is not identifying until next of kin has been notified, was pronounced dead at the scene.
The employee, who had been at home with a broken ankle, was not supposed to work today, but he was called in about 2:30 p.m. to receive his layoff notice.
The employee was not married and did not have children, although he had an extended family he helped support, according to two of his coworkers.
"This is a tragic event for the city and all of its employees," Lt. Bryan Glass said. "The city is concerned for their wellbeing and making efforts to help them through this."
Police taped off a large portion of the parking lot on the east side of City Hall.