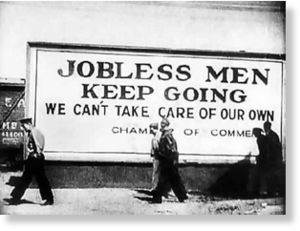 The spinmeisters are playing the same record over and over, recovery, recovery, scratch, scratch, recovery's in da house! The Associated Press trumpeted, "After two years of recession, Christmas 2010 will go down as the moment when Americans rediscovered how much they like to shop." On December 28th, Yahoo Finance reassured us at 9AM, "The recovery is on track," but an hour later, it featured a new headline, "Consumer Confidence Unexpectedly Falls in December."
With its attendant social chaos, crime and despair, the country is sinking into an economic quicksand, yet Americans are injected daily with a massive dose of tranquilizing nonsense. Today's top stories, "Elton John Becomes a Dad," "Air Force Mascot Goes Missing at Game," "10 Best Celebrity Hair Moments" and "Synchronized Walking Routine."
The cheeky and cheery are occasionally contradicted by grimmer admissions, however. Even Voice of America, that Cold War relic and official mouthpiece of Washington, has this exchange:
[VOA]: "How does it feel from the beginning of the Christmas season from your point of view?
[Cashier]: "It's not that good. It's like so-so, you know."
[VOA]: "So business isn't so great right now."
[Cashier]: "No I don't think so. Because people don't have the money to buy, there are lots of people who don't have jobs."
[VOA]: "Is your job in danger?"
[Cashier]: "Yeah."
Weird, such candor from the VOA. Maybe their CIA check bounced?