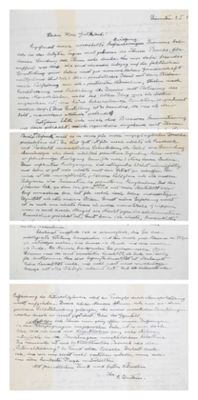 From studying slices of his brilliant brain to probing profound physics theories, scientists and enthusiasts alike have long been spellbound by Albert Einstein. Now, an auction is offering the world a peek at Einstein's thoughts on what may be humanity's most profound question: the existence of God.
The private letter written by
Einstein
expressing his
views on God
and religion will go up for auction Monday (Oct. 8) on eBay. In the letter, he calls belief in religion and God "pretty childish" and ridicules the idea that the Jews are a chosen people.
"This is the most historic and significant piece we have listed on eBay," Eric Gazin, president of Auction Cause, the agency managing the sale, told LiveScience in an email. "We are excited to offer a person or organization an opportunity to own perhaps one of the most intriguing 20th-century documents in existence. This personal letter from Einstein represents the nexus of science, theology, reason and culture."
Einstein handwrote the letter in German to Jewish philosopher Eric B. Gutkind on Jan. 3, 1954, a year before Einstein's death. The letter was a response to Gutkind's book
Choose Life: The Biblical Call to Revolt
(1952, H. Schuman; 1st edition).
In part of his letter, Einstein writes, "For me the Jewish religion like all other religions is an incarnation of the most
childish superstitions
. And the Jewish people to whom I gladly belong and with whose mentality I have a deep affinity have no different quality for me than all other people.
As far as my experience goes, they are also no better than other human groups, although they are protected from the worst cancers by a lack of power. Otherwise I cannot see anything 'chosen' about them," as translated from German by Joan Stambaugh.