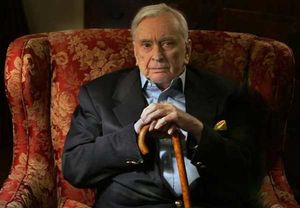 Gore Vidal
, the iconoclastic writer, savvy analyst and imperious gadfly on the national conscience, has died. He was 86.
Vidal died Tuesday at his home in the Hollywood Hills of complications of
pneumonia
, said nephew Burr Steers.
Vidal was a literary juggernaut who wrote 25 novels, including historical works such as
Lincoln
and
Burr
and satires such as
Myra Breckinridge
and
Duluth
. He was also a prolific essayist whose pieces on politics, sexuality, religion and literature -- once described as "elegantly sustained demolition derbies" -- both delighted and inflamed and in 1993 earned him a National Book Award for his massive
United States Essays, 1952-1992
.