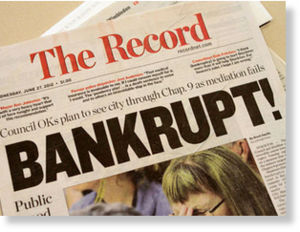 As some California cities face bankruptcy, public services are being slashed so unusually high pensions can stay on the books. Stockton's former police chief rakes in a pension of more than $200,000 a year, while also working another job.
­Former Stockton Police Chief Tom Morris retired with a $204,000 pension after just eight months on the job. While his California city became the largest in the US to file for bankruptcy, he moved to another city and makes an additional $76,066 salary at a new job.
The former police chief retired at age 52, and was among four of the city's chiefs who held the job for less than three years, while retiring with an average of 92 per cent of their final salaries.
But Morris' unusually high pension is not an isolated incident. City councils across California have allowed public safety employees to retire after working for 30 years and collect 90 per cent of their top salaries. But while raking in a sizable pension, they often take jobs elsewhere, while still in their early 50's.
Two former police chiefs in San Bernardino receive similarly high pensions. Keith Kilmer receives $216,581 annually, while working another job. His predecessor, Michael Billdt, who has no college degree and was accused of trying to bribe an officer to withdraw a union grievance in exchange for a dropped investigation, receives $205,014.