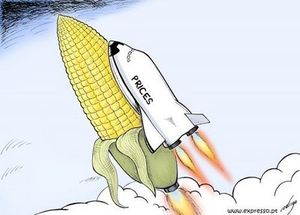 World food prices rose in September to the highest in six months as dairy and meat producers passed on higher feed costs to consumers, the United Nations' Food & Agriculture Organization said.
An index of 55 food items tracked by the FAO rose to 215.8 points from a restated 212.8 points in August, the Rome-based agency reported on its website today. Dairy costs jumped the most in more than two years.
Livestock breeders and dairy farmers are passing on the higher cost of feed, after grain prices jumped in June and July, according to Abdolreza Abbassian, an economist at the FAO in the Italian capital. Higher prices don't mean a food crisis is imminent, he said today by phone.
"Despite a very difficult market, the fundamentals that suggest a food crisis are just not there," Abbassian said. "Market sentiment is now accepting high prices more as a rule than as an exception."