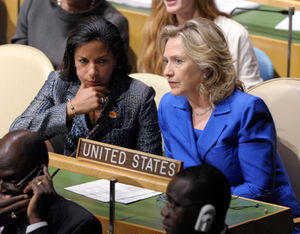 "The lie can be maintained only for such time as the State can shield the people from the political, economic and/or military consequences of the lie. It thus becomes vitally important for the State to use all of its powers to repress dissent, for the truth is the mortal enemy of the lie, and thus by extension, the truth becomes the greatest enemy of the State."

-- Dr. Joseph Goebbels
Western Civilization no longer upholds the values it proclaims, so what is the basis for its claim to virtue?
For example, the US print and TV media and the US government have made it completely clear that they have no regard for the First Amendment. Consider CNN's Wolf Blitzer's reaction to the leaked diplomatic cables that reveal how the US government uses deceptions, bribes, and threats to control other governments and to deceive the American and other publics. Blitzer is outraged that information revealing the US government's improprieties reached the people, or some of them. As Alexander Cockburn
wrote
, Blitzer demanded that the US government take the necessary steps to make certain that journalists and the American people never again find out what their government is up to.
The disregard for the First Amendment is well established in the US media, which functions as a propaganda ministry for the government.
Remember the NSA leak given to the
New York Times
that the George W. Bush regime was violating the Foreign Intelligence Surveillance Act and spying on Americans without obtaining warrants from the FISA court? The
New York Times
spiked the story for one year and did not release it until after Bush's reelection. By then, the Bush regime had fabricated a legal doctrine that "authorized" Bush to violate US law.
Glenn Greenwald writing in Salon has exposed the absence of moral standards among WikiLeaks' critics. A number of American politicians have called for the US government to murder Julian Assange, as have journalists such as neoconservative propagandist Jonah Goldberg, who wrote:
"Why wasn't Assange garroted in his hotel room years ago?"