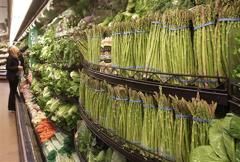 Wholesale prices rise 1.6 pct. due to biggest jump in food costs in more than 36 years
Wholesale prices jumped last month by the most in nearly two years due to higher energy costs and the steepest rise in food prices in 36 years. Excluding those volatile categories, inflation was tame.
The Labor Department said Wednesday that the Producer Price Index rose a seasonally adjusted 1.6 percent in February -- double the 0.8 percent rise in the previous month. Outside of food and energy costs, the core index ticked up 0.2 percent, less than January's 0.5 percent rise.
Food prices soared 3.9 percent last month, the biggest gain since November 1974. Most of that increase was due to a sharp rise in vegetable costs, which increased nearly 50 percent. That was the most in almost a year. Meat and dairy products also rose.