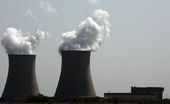 Rep. Tammy Baldwin, D-Wis., represents Madison in the House. Her district leans to the left, and so does she. But on at least one issue she may be at odds with Madison's stereotypical constituency, which is to say aging bearded liberals who wear "No Nukes" T-shirts from the 1980s and until recently could be seen all over the State Capitol: She supports the building of new nuclear power plants.
"I think that climate change poses such a significant challenge to us that we have to have all the tools on the table, and this is a very significant source of energy that doesn't release greenhouse gases into the environment," said Baldwin. She laughed. "It's a very cautious support, if you will."
In Japan, there is a race against time to stop meltdowns
at reactors at the Fukushima Daiichi power plant
. In Washington, no one wants to overreact. There is near unanimity on the idea that the United States needs to keep building those plants, as President Obama requested in his budget and as Republicans request every day.
"If we can learn any lessons from Japan's experience, sure," said House Majority Leader Eric Cantor at a press briefing. (He was answering the only question, of about 20, about Japan.) "But I believe nuclear power is part of this country's energy strategy and the president has said so."