At the time of the 'serendipitous' encounter on Sunset Boulevard, Stills was living at the home of Barry Friedman, a former circus clown, fire-eater, TV producer, and freelance publicist. To say that his home was a bit odd would probably be an understatement. According to folkie Nurit Wilde, "It had a bathtub in the middle of the living room and a secret room behind the bathroom where people carried on liaisons." The massive bathtub sat right in front of the equally massive fireplace. As Friedman himself would later acknowledge, "This was a very strange house."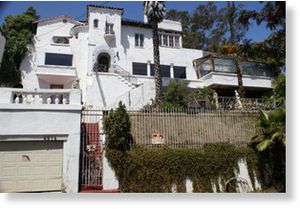 Not strange by canyon standards, perhaps, but strange nonetheless. Stranger homes can certainly be found, such as in the Holly Mont neighborhood near the base of nearby Beachwood Canyon. One such home, pictured above, is described in the book
Haunted Hollywood
. The house isn't actually haunted, of course, but it does contain some rather unusual features, as a past owner discovered: "the house's most startling feature - a secret passageway behind a built-in bookshelf he'd discovered during remodeling. It connected to a series of subterranean tunnels linking several houses on the hillside...While exploring the tunnel beneath his house, Grey found a makeshift grave. The headstone read 'Regina 1922.'"
Nothing weird about that, I suppose. Nor about the fact that the house pictured below, which sits right next-door, is also linked through the underground tunnel complex.