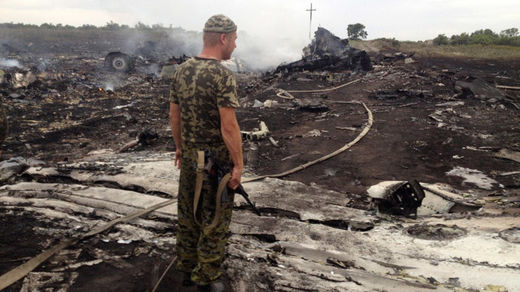 The crash of a Malaysian Airlines plane in eastern Ukraine must be investigated thoroughly and objectively, Russian President Putin said in a statement. The tragedy underlines the urgent need for a peaceful resolution of the armed conflict in Ukraine.
Putin's statement came after he contacted Dutch Prime Minister Mark Rutte to express condolences over the deaths of his fellow citizens in the disaster.
The majority of the passengers of the ill-fated flight, which was apparently shot down over the war zone in eastern Ukraine on Thursday, were from the Netherlands.
Earlier the Interstate Aviation Committee (IAC), a Russia-based international body tasked with investigation of all civil aircraft incidents in most former Soviet republics, including Ukraine,
called for the formation of an international investigative group under the aegis of the International Civil Aviation Organization (ICAO), a UN body, to investigate the incident.
The IAC said such a group should be handed over MH17 flight recorders, which are currently being recovered in Ukraine's Donetsk Region.
So far two flight recorders from the plane have been reportedly recovered in the region currently controlled by the militia forces. Some militia officials said they intended to hand them over to Moscow
because they didn't trust Kiev to properly investigate the incident
.
The probe into the loss of the Boeing-777 is bound to be a politically loaded one.
There was no official confirmation that the plane was shot down rather than crashed from a different cause
, but the parties involved are already trading blame for the tragedy.