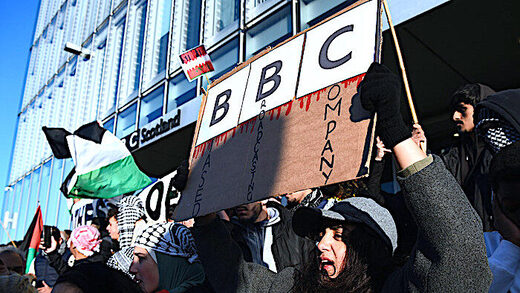 BBC journalists have accused the British state broadcaster of biased coverage of the Israeli-Palestinian conflict and hostilities in Gaza, Qatari state network Al Jazeera reported on Thursday.
In a 2,300-word letter cited by the Doha-based outlet,
eight UK-based journalists working for the BBC accused their employer of failing to accurately report the story due to "lack of critical engagement with Israel's claims" about the conflict.
They complained that
terms like "massacre" and "atrocity"
were used only to describe the crimes of the Palestinian militant group Hamas.
The BBC painted Hamas as "the only instigator and perpetrator of violence in the region,"
which is "inaccurate," it said.
Israeli and Palestinian victims were not treated equally
by the BBC either, the letter claimed, stressing that "humanizing coverage of Palestinian civilians has been lacking" on its platforms.
"It is largely in the last few weeks - as civilian deaths have exponentially increased and Western countries' appetite for Israel's attacks has waned - that the BBC has made more effort to humanise Palestinian civilians.

"For many, this feels too little too late, and shows that the positions taken by governments in the UK and US have undue influence on coverage. The BBC didn't provide context on the background of the current crisis, including 75 years of occupation, the Nakba*, or the asymmetric death toll across decades."