Comment: The church where this atrocity occurred in Nice is the city's 'Notre Dame' (and it even looks like the bigger one in Paris). This is not coincidental. Islamists/jihadists/patsies/whatever carrying out such attacks in lockstep with the French government's major announcements of ever-encroaching lockdown measures is also not coincidental. There is indeed science and methodology to the 'Covid-19 Pandemic', but it has nothing to do with a 'killer virus'...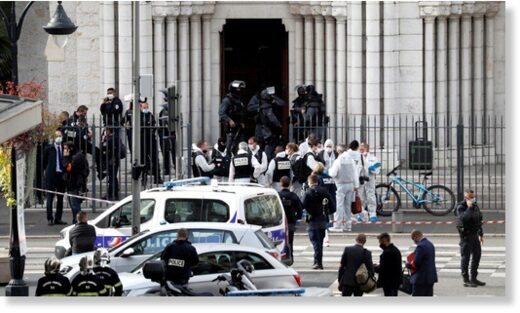 A woman was decapitated and two other people killed during a knife attack Thursday at a church in France that authorities are investigating as a terrorist attack.
The
attack
occurred near the Basilica of Notre-Dame in Nice, a city on France's southern coast.
"The suspected knife attacker was shot by police while being detained, he is on his way to hospital, he is alive,"
Mayor Christian Estrosi said, adding that the "terrorist"
shouted "Allahu akbar," which is Arabic for "God is great," as police arrested him
.
"The meaning of his gesture left no doubt," Estrosi said. The woman who was "decapitated" and at least one of the other victims who died "in a horrible way" were inside the church, the mayor said.
Two other attacks occurred in France on Thursday.
A Saudi man was arrested after he attacked a guard with a sharp tool at the French consulate in Jeddah
, Saudi Arabia, according to Saudi state media. The guard was hospitalized and suffered minor injuries.