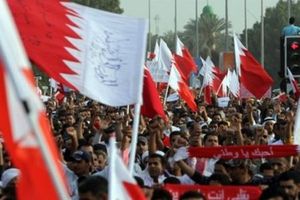 Thousands of Bahraini anti-government protesters have poured into the streets in the island city of Sitra, following a call by the country's largest opposition group al-Wefaq.
The Friday rally was the second mass anti-government demonstration organized by al-Wefaq since the heavy mid-March government crackdown on protesters.
Witnesses say regime forces were closely monitoring the rally and a military helicopter was hovering over the city. But there were no reports of clashes or arrests.
The first protest rally was hold last Saturday under the banner "Bahrain, homeland for all" in the village of Sar 10 days after a state of emergency was lifted.
Al-Wefaq leader cleric Sheikh Ali Salman told protesters on Friday that the opposition was not against dialogue with the government if rights interlocutor and officials were involved.
"The success of dialogue, reform and transition to democracy need officials that believe in it. One of the problems of the past was that many officials did not believe in democracy and reform," AFP quoted Salman as saying to the crowds.
Similar protest rallies were also held in some other Bahraini villages and towns. Witnesses say regime forces fired teargas at protesters in Karzakan village, west of the country.