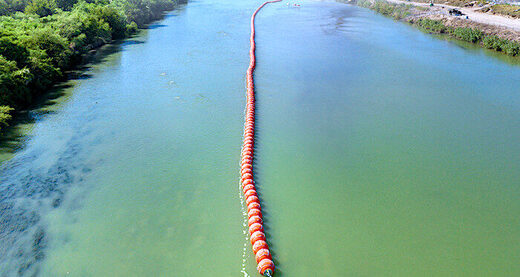 A federal appeals court on Friday ruled that Texas must remove a series of buoys in its river border with Mexico that had generated a wave of backlash from immigration advocates and Democratic lawmakers.
In a 2-1 decision, a panel of the 5th Circuit Court of Appeals rejected Texas' request to overrule a federal district judge, who
ordered the state
in September to remove the controversial barrier. Judge Dana Douglas, an appointee of President Joe Biden, wrote in the panel's
majority opinion
that the district judge had appropriately "considered the threat to navigation and federal government operations on the Rio Grande, as well as the potential threat to human life the floating barrier created."
Texas Gov. Greg Abbott first deployed the barrier
— a roughly 1,000-foot stretch of orange spherical buoys connected by heavy metal cables, complete with an anti-dive net beneath it —
in early July and subsequently claimed that it had deterred thousands of people from crossing.
The Department of Justice sued the state,
arguing that it obstructed U.S. waterways in violation of federal environmental law.
In September,
U.S. District Judge David A. Ezra,
an appointee of Ronald Reagan,
ruled that the buoys likely obstructed the flow of the Rio Grande in a way that required congressional authorization.
That reasoning derives from an
1899 law called the Rivers and Harbors Appropriation Act,
which requires federal approval for obstructions built in navigable waters.