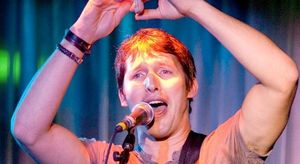 James Blunt refused an order to attack Russian troops when he was a British soldier in Kosovo.
Kosovo, June 1999. Serbia has withdrawn from the campaign. Hundreds of thousands of refugees wait over the border to return to their homes. A column of 30,000 Nato troops is advancing towards Pristina airfield - a crucial strategic position.
Unexpectedly, the Russian forces, reach the airfield first; Russia, Serbia's patron, is hoping to stake a claim in the occupation. The soldiers are pointing their weapons at the incoming Allied troops. "Destroy!" orders the US general over the radio - instructions from the very top. World War Three is on the cards. Enter crooner James Blunt. Crisis averted.
Blunt was then 25, a captain in the Life Guards and the lead officer at the front of the Nato column. He risked a court martial by refusing to obey those orders from General Wesley Clark to attack the Russian forces.
In a BBC radio interview last night, Blunt said: "I was given the direct command to overpower the 200 or so Russians who were there. I was the lead officer, with my troop of men behind us... The soldiers directly behind me were from the Parachute Regiment, so they're obviously game for the fight.