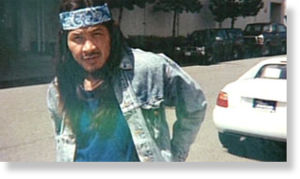 Under orders from a King County judge, police in Seattle, Wash., have released video footage of a police officer shooting a homeless man originally from Vancouver Island.
Wood carver John Williams was crossing a street when a police officer spotted him carrying a knife and a piece of wood.
Seattle police say Officer Ian Birk, 27, thought Williams was a threat.
Investigators say Williams had turned to face the officer but would not say if he had made any sort of move toward him.
Williams, 50, had been living in Seattle for 18 years, working as a carver at the Pike Place Market in the city's downtown tourist district, when he was shot Aug. 30.
He died after the officer shot him four times in the chest.
Audio recordings from the patrol car indicate Williams failed to comply with repeated orders to put down his knife, Seattle police said.
A local art dealer said Williams was deaf in one ear and likely did not hear the officer.
Birk's lawyer did not agree with the release of the video, but King County District Court Judge Arthur Chapman ruled on Thursday that the footage should be released Friday.
Birk was recently asked to turn in his badge and his gun.
An inquest into the shooting is scheduled for January.