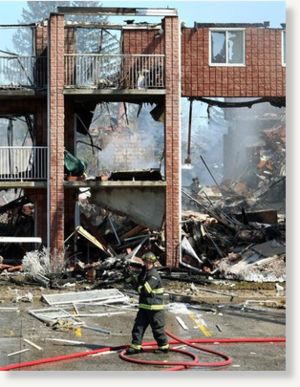 Seven people remain unaccounted for after a fiery explosion reduced an apartment building to a pile of bricks and charred wood in Woodstock, Ont., on Sunday.
With a large part of the three-storey building now turned to a pile of smoldering rubble, police said the outlook for those missing was grim.
"If we don't have any fatalities, I'll be very surprised," Sgt. Marvin Massecar of Woodstock police said late in the afternoon.
Raging flames tore through the building after nearby residents reported hearing a thunderous explosion and feeling the ground shudder early Sunday morning. Plumes of black smoke could be seen from the distance as fire crews worked to douse the blaze.
At one point, it looked like much of the building's facade was consumed by roaring orange flames, which caused the structure to crumble into a heap of bricks and twisted metal.
Seven people, including a firefighter, were injured in the blaze, police said. Six of those hurt were treated at Woodstock General Hospital and released. One person remained in hospital with non-life-threatening injuries.
By Sunday evening, police had taped off a large area surrounding the building and evacuated all the homes on Victoria Street.