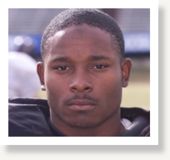 An El Dorado man who made his professional boxing debut Saturday in Benton died Sunday at a Little Rock hospital just hours after the bout was stopped in the second round.
Anthony Jones, 28, died at UAMS medical center Sunday, but the promoter of an event dubbed "Benton Beatdown," at Fitness Unlimited in Benton. He said he wasn't sure of a cause of death.
"It was just an untimely and unfortunate accident for him," said Larry Harris, whose-Sheridan based Thunderstruck Fight Promotions had put together the seven bout event that drew close to 500 spectators. "The hospital doesn't believe it had anything to do with the fight."