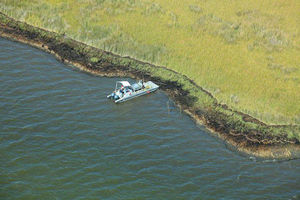 Residents who live along the coast of the Gulf of Mexico, all the way from Terrebonne Parish, Louisiana, to well into western Florida, continue to tell me of acute symptoms they attribute to ongoing exposure to toxic chemicals being released from BP's crude oil and the toxic Corexit dispersants used to sink it.
Shirley Tillman from Pass Christian, Mississippi, and former BP Vessels of Opportunity oil cleanup worker wrote me recently:
"You can't even go to the store without seeing sick people! You can hear them talking to people and they think they have the flu or a virus. I saw a girl that works at a local store yesterday that had to leave work because she was so sick! Others, throughout the entire store were hacking & coughing. It's crazy that this has been allowed to happen to all of us!"
Oil continues to wash ashore. That which was already there, usually in the form of tar balls or mats of tar, is being uncovered by the weather.
Four of the fragile barrier islands of Mississippi have had four million pounds of oil removed, thus far. The embattled coastline never gets a break. However, BP cleanup crews, who returned to work the first week of January after an 11-day break, removed another 11,000 pounds of oil from Petit Bois Island Thursday, January 6, and another 3,800 pounds from Horn Island.
"The northerly wind seems to do the uncovering [of the oil]," a
cleanup supervisor said
. "Southerly winds appear to be covering it up."