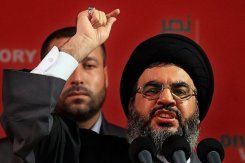 Hezbollah's chief on Wednesday urged his Shiite fighters to stand ready to take Galilee in any future Lebanon-Israel war and threatened Israelis "anytime, anywhere" to avenge a top operative's killing.
"I say to the fighters of the Islamic Resistance: Be ready. If a new war is imposed on Lebanon we may ask you to take Galilee, to free Galilee," Hassan Nasrallah said in a televised speech to mark his Shiite party's martyrs' day.
He vowed that the death of Imad Mughnieh, killed in a February 2008 car bombing in Damascus that Iranian-backed Hezbollah has blamed on Israel, would not be forgotten or go unpunished.