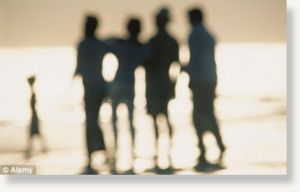 A woman who is set to become Britain's youngest grandmother at 29 said it was 'her worst nightmare' when she discovered her 14-year-old daughter was pregnant.
Kelly John said she always hoped Tia would not repeat her mistake and become pregnant at 14.
But after getting over the shock, the grandmother-to-be has vowed to do 'everything' to bring up the new baby.
Schoolgirl Tia and her baby-faced 4ft 11in 15-year-old boyfriend Jordan Williams have vowed to prove they can be good parents despite their age.
But Tia's father - Shem Davies - who split with her mother years ago, said at the same age he had expected to stay with Kelly forever and bring up his daughter.
He told the
News of the World
: 'I just didn't know how to be a dad - I was still a kid myself.'
The couple broke up at the age of 15 - and now his daughter has fallen pregnant he is hoping she will not do the same thing.
Tia and her boyfriend Jordan said they usually used condoms - and see the baby as a blessing.