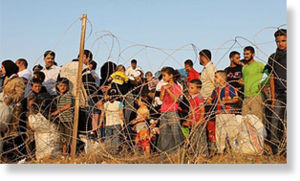 The number of refugees fleeing Syria could reach 700,000 by the end of the year, the UN refugee agency said on Thursday, almost four times its previous forecast. Most faced what was likely to be a bitterly cold winter living in tents with little prospect of returning to their homeland, it said.
About 294,000 refugees fleeing 18 months of conflict in Syria have crossed into four neighbouring countries - Jordan, Iraq, Lebanon and Turkey - or await registration there, it said.
"This is a significant outflow taking place, 100,000 people in August, 60,000 in September and at the moment 2,000 or 3,000 per day or night," Panos Moumtzis, regional refugee co-ordinator for the UN refugee agency UNHCR, told a news briefing.
About 5,000-6,000 Syrians have reached other parts of north Africa, mainly Egypt, while other refugees are turning up in southern Europe, including Cyprus and Greece, he said.
The previous forecast of 185,000 refugees was surpassed in August.