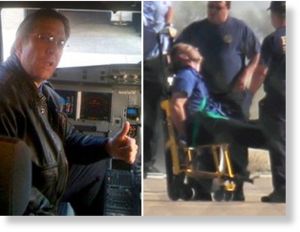 Dallas - The JetBlue Airways pilot who disrupted a cross-country flight by leaving the cockpit and yelling about religion and terrorists has had a psychotic episode in prison and requires further mental evaluation, a judge said Wednesday.
Clayton Osbon was charged with interference with a flight crew, but was found not guilty by reason of insanity last month. A forensic neuropsychologist testified in a short, unpublicized trial that Osbon had a "brief psychotic disorder" at the time of the flight brought on by lack of sleep.
Passengers said Osbon left the cockpit during a March 27 flight from New York to Las Vegas. He ran through the plane's cabin yelling about Jesus and al-Qaida. The flight was diverted and safely landed in Amarillo, Texas.
After the trial, Osbon was sent to a prison medical facility in North Carolina for evaluation. He was scheduled to return to Amarillo federal court this week for another hearing on whether he should go free or be sent to a mental health facility.
Instead, U.S. District Judge Mary Lou Robinson on Wednesday extended Osbon's evaluation period to Oct. 15, with a final evaluation report due to her by the end of that month.
Robinson said she was notified by a forensic psychologist that Osbon "had suffered a psychotic episode." She did not say what the nature of the episode was, if it was connected to his previous disorder or what prompted it. A message seeking comment was left for Osbon's attorney, Dean Roper.
Robinson's order said attorneys on both sides did not oppose the extension.