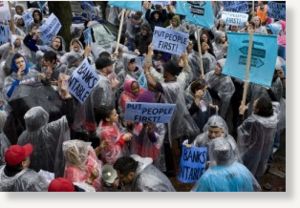 A new campaign by a national network of activists kicked off Monday morning with a splash as it led hundreds of fed up homeowners in a series of protests that brought business to a halt at a major bank and the House speaker's office.
The National People's Action network
picked Monday to launch the "
Make Wall Street Pay
" campaign thanks to another show in town: the National Association of Attorneys General's Convention in Washington, D.C.
But they didn't stop there.
Moving from the meeting of all 50 Attorneys General, the crowd made their way to a Bank of America branch on Pennsylvania Ave. While about 300 stood outside, another 300 moved indoors,
filling up the lobby and bringing business to a standstill
.