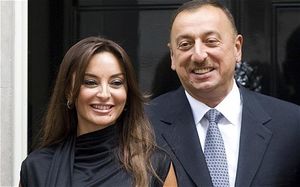 The Duke of York made private visits to the President of Azerbaijan, whose country is one of the most corrupt in the world, after forging links with him in his role as trade envoy.
The disclosures will add to questions over the Duke's relationships with the leaders of dubious regimes.
He visited the Azerbaijan president eight times in five years, with two of the visits described as
"
entirely private
".
The Duke's repeated visits to
the state - ranked as one of the most corrupt in the world - were in the face of allegations of the torture of political opponents and rigged elections by the regime
of President Ilham Aliyev.
Such has been the regularity of the Duke's visits that local media in Azerbaijan have speculated that he has business links to the oil-rich state, including a golf resort on the Caspian Sea. However, Buckingham Palace has denied this.
As recently as Monday of this week, Amnesty International demanded an end to the torture of activists demanding reforms in Azerbaijan similar to those seen in Tunisia and other parts of the Middle East.
The Duke is referred to on his visits as "the dear guest" and, in June 2009,
he chartered a private jet and flew to the country for three days at an estimated cost to taxpayers of £60,000
.